"It was not until the fitness and aerobics craze in the very early 1980s that leggings became fashionable as gym-styled street wear for women. Leggings were worn in the 1980s through the mid-1990s with skirts, and short dresses like babydoll dresses, over-sized shirts, sweaters, etc., and with slouch socks and Keds."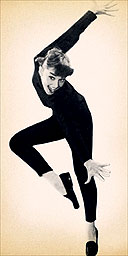 The leggings have gone from basic black skinny pants, to different bright colors, to patterns, sequins, studs, we can now see them torn up, or tie-dyed. I must say, they've been through lots of changes. But sometimes, despite all the options we have nowadays, we prefer the basic black ones, the ones which started the leggings craze, which remind us of Audrey Hepburn and her ballet flats, we choose to 'go back to basics'.
However, we are more often attracted by the wide range of spectacular leggings, which always catch our eye, making us wonder "Would I be able to pull off a look with those extravagant leggings?". And it's done. It instantly becomes a challenge for us.
Leo leggings, French Connection, £35 2. Rachel Pally for shopbop

3. Farfetch £34.50 ---------------------4. Graffiti print leggings Topshop.com £20
Hand-dyed legwear. Shiborilove.com
Stella McCartney $837---------------2. La Rok shopbop.com $187

3. Left->Right
(Topshop; $80), (Les Chiffoniers; $815), (Alexander McQueen; $2,345)