Who DOESN'T love Juicy Couture? Because I sure DO. I cherish it. I'm in love with it. I would buy totally everything anywhere anytime. I just adore it. I think you got the point. And this post is all about my lovely Juicy Couture.
Their charms are so original and creative, I love them all.

I also have a huge crush on their handbags.
<---My favourite.
Adorable dogs accessories.
Juicy Couture people purse(left); Juicy Crittoure Dog Carrier (right).
Jewellry. Verrrry creative, original, fantastic, I love it.
And, last but not least, their lovely gift ideas.

1. Leopard Stocking.
2. Holiday Ornaments
3. Heart-Shaped Box with Boy-Short Set
4.Gadget Accessories
5. Lipgloss set.
6. Go Couture Yourself. Perfume.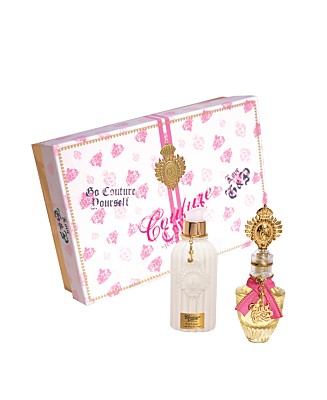 Remember, stay Juicy!